Spike is from the show called My Little Pony: Friendship is Magic.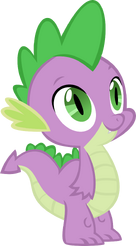 Orginal Appearance
Edit
In orginal, he has green eyes, green plates on his head to his back to his tail, purple like reptile skin with a white greenish on his front to the under. He aslo has lime green ears, and he breathes green fire, as a dragon.
Animal Apperance
Edit
In Equestria Girls, hes more likely as a dog (an animal or pet). Same colors, but with fur, also on the back has dark white spots, and a dark purple collar, with spikes on it, and a gold and red dog tag with a pink heart on it.
Other Information
Edit
In orginal, he lives with Twight Sparkle, in the crystal castle, in Ponyville.
In Equestria Girls, hes a dog.